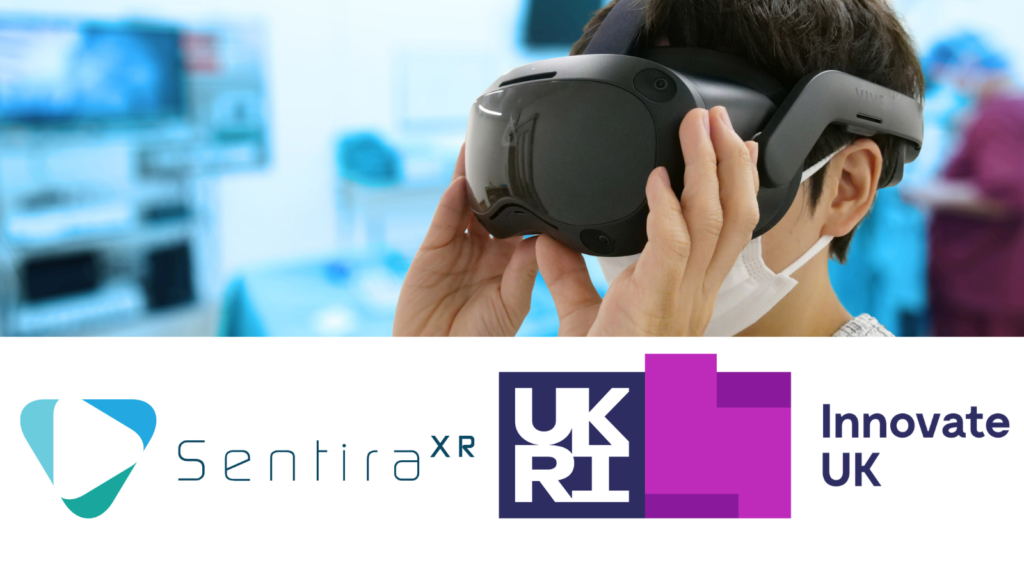 Innovate UK, the UK's innovation agency, awards funding to Sentira for a cloud-based VR and AI medical training initiative
MANCHESTER, UK TUESDAY 31st JANUARY 2023
Sentira, a pioneer in the field of VR and AI virtual reality medical training has announced that it has been awarded a highly competitive UK-South Korea Collaborative R&D Grant from Innovate UK, the UK's innovation agency.
The grant will fund a two-year project in partnership with South Korean technology companies Tetra Signum and Health on Cloud, alongside two UK Universities. The project aims to develop an innovative medical education platform for the delivery of medical pharmacology training. The platform will use a combination of AI-supported immersive VR simulations and advanced voice recognition NLP (Natural Language Processing) techniques to deliver realistic clinical scenarios.
Innovate UK, part of UK Research and Innovation, is investing up to £2 million in innovation projects in partnership with the Korea Institute for Advancement of Technology (KIAT). This is to fund collaborative research and development (CR&D) projects focused on industrial research. The funded projects are expected to result in a new product, industrial process or service. They also had to be innovative, involve a technological risk, and have high market potential.
The Sentira submission scored extremely highly and as a result, is one of only a handful of applications to receive funding.
Jeremy Carter CEO Sentira
"This project is at the forefront of new developments in medical education and training. We are the lead partner in the UK consortium, alongside two prestigious UK Universities. This is an excellent opportunity for us to combine our leading AI and VR technologies with pedagogically sound principles of learning and assessment from leading academic institutions. The funding enables us to create a highly innovative product and bring new jobs to the UK.
We also benefit from working directly with Tetra Signum, a market-leading South Korean technology company, and their partner Health on Cloud."
About Sentira
Sentira is a provider of pioneering medical and healthcare simulations. Our transformative VR training uses AI technology to deliver educational content that is fully immersive, interactive and engaging. This groundbreaking technology dramatically enhances medical and healthcare training. It enables delivery to students anywhere, anytime, whilst also complementing conventional education methods.
About Innovate UK
Innovate UK drives productivity and economic growth by supporting businesses to develop and realise the potential of new ideas.
We connect businesses to the partners, customers and investors that can help them turn ideas into commercially successful products and services and business growth.
We fund business and research collaborations to accelerate innovation and drive business investment into R&D. Our support is available to businesses across all economic sectors, value chains and UK regions.
Innovate UK is part of UK Research and Innovation
For more information visit www.innovateuk.ukri.org
Media enquiries: Fran Carter, Advance EdTech Ltd
Business Development: CEO Jeremy Carter
For more information regarding Sentira projects visit sentiraxr.com or follow us on Twitter or LinkedIn